Sheryl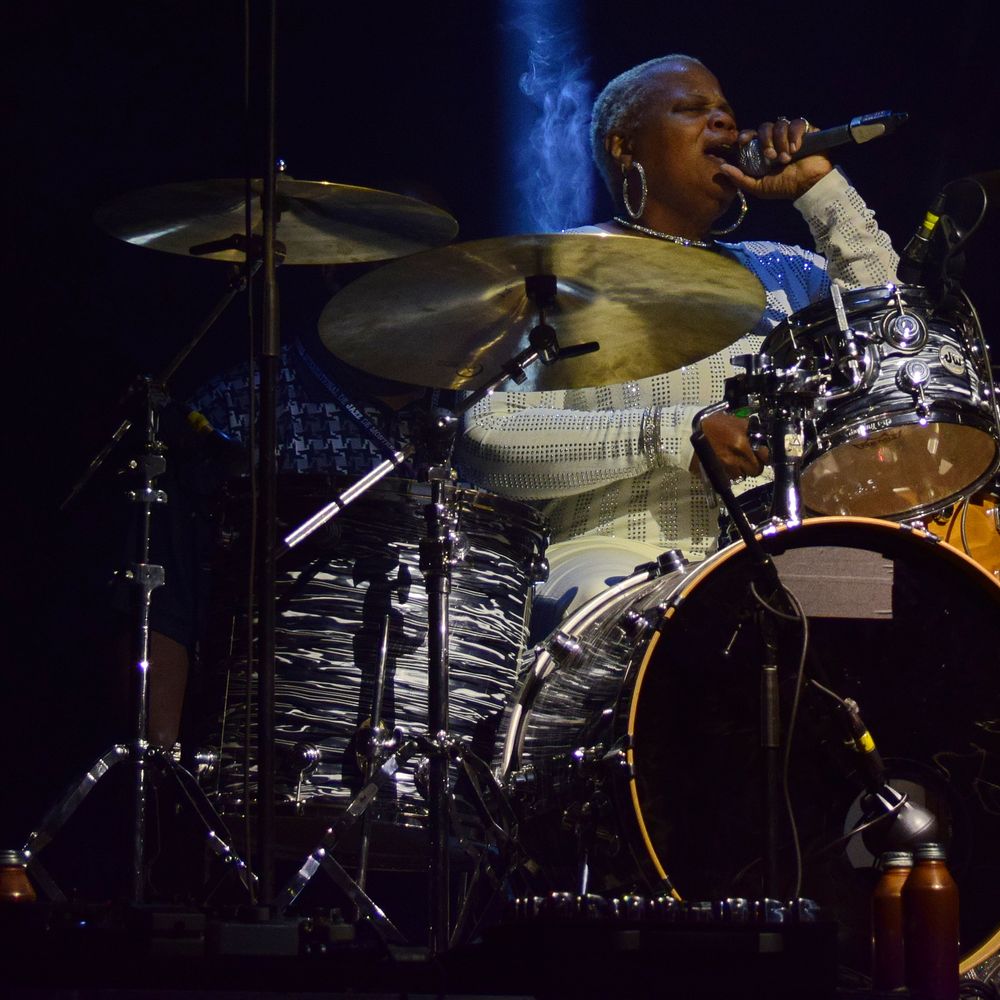 SHERYL YOUNGBLOOD
Singer/ Songwriter/ Musician/Audio Video Technician
Favorite Subjects:
Music and what it means
Motto:
"Do Your Best"; "Nothing beats a Failure but a TRY";
Growing up in a musically inclined family with her mother having her own female group "The Royal Harmonetts" and being a pianist and vocalist in the church, Sheryl was born into music.
2015 Chicago Blues Hall Of Fame Inductee. Sheryl began singing and playing various instruments in the church, in her teen years Sheryl began her own female group in her church (Mt. Zion Baptist Church) called "Sisters" in which she wrote several of their songs and also wrote songs for the National Baptist State Convention, (unfortunately those songs were not recorded) soon after Sheryl auditioned for and was immediately excepted into the world renowned gospel recording group "Rev. Milton Brunson and the Thompson Community Singers of Chicago" affectionately called "The Tommies" while singing with "The Tommies" the group became a Grammy and Stella Award winning group. During that time Sheryl began playing drums and or singing with various recording artist such as Otis Clay, Artie "BLUES BOY" White, Bobby "Slim" James, "KoKo Taylor and "The KoKo Taylor Blues Foundation", Nellie "Tiger" Travis, Willie Rogers, 3x Hall of Famer Billy Shelton, 3x Stella Award winner "Darious Brooks", Hall of Fame Group "The Spaniels, "Raven" Grammy and Emmy Award winner Jennifer Hudson, Yolanda Adams, Daryl Coley, LeAnn Faine, Stormy Weather, she has opened for The Whispers, Buddy Guy, Lakeside, Chante Moore, Reheem De'Vaughn, Kindred The Family Soul, Denise LaSalle, Bobby Rush, John Primer, Maurice John Vaughn and the list goes on in 1995 Sheryl Formed "SAYYES!" band and an all female band Ultimately Blessed a.k.a. "UB"  SAY YES! And UB performed at many different venue's and put on yearly benefit concerts for SWWR (Batter and abused Women and Children Facility) Cancer; Sickle cell Anemia; Diabetes; Prostate Cancer and more. SAYYES! the band continues to play a variety of music, a variety of venues and for a variety of events SAYYES! has opened for many artist as mentioned on the SAYYES! page of this website www.sayyeslive.com the band continues on, making and playing music. Sheryl has been on Radio, Television, in multiple Blues magazines and in digital media.
Sheryl started her own Blues band Sheryl Youngblood Blues Band in 2013 A Powerful Vocalist; Drummer; Songwriter; Bandleader; Entertainer. works regularly and travels extensively. Performing at such places as The world renown BLUE CHICAGO as a regular artist of the club as well as playing at many venues in and out of the United State with bookings at Buddy Guys Legend, Rosa's Lounge, House of Blues Main Stage, Crossroads Stage and Foundation Room, Kingston Mines, B.L.U.E.S on Halsted, Taste of Chicago, Taste of East Chicago, Blue Chip Casino, Majestic Star Casino, Hardrock Casino MWI, Muckleshoot Casino Seattle Washington, Ameristar Casino Jackson Mississippi, Country Club Hills Theater , Blues On White Edmonton Canada, Blues Can Calgary Canada, and many more venues, keeping the audience involved and energized with a TRUE show. Sheryl also sings and performs with world renowned group, Mississippi Heat
A/V (Audio/Visual): Attended school of Can TV: Videography; Video recording and editing and is now certified as a videography and Audio technician Working in the music business has afforded Sheryl many opportunities for hands on training and teaching of Audio, Video, lighting, spot lighting and as a full on stagehand with Hands R Us Staging for multiple venues: Country club hills Theater; House of Hope special events to name just a few.
Discography: Stranger In My Bed, Live at House of Blues with her rearrangement of At Last by Etta James and other songs you will love to listen to and soon hear in the Blues and R&B sector.
Sheryl's mission is to touch everyone possible musically even if only for an hour or two on stage making someone feel better then they did when they arrived to the event!